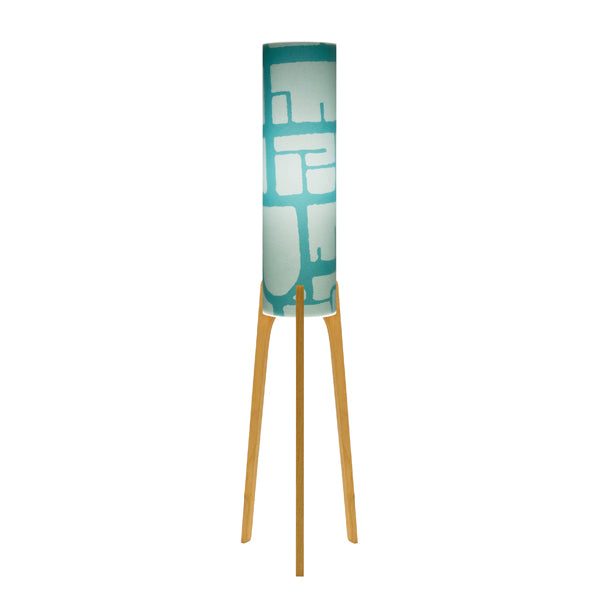 When North Meets South
THE PHOEBE LAMP - Original Tri Base (pine) $389 - [Paper: Adelaide Detail Teal] by Where North Meets South
THE PHOEBE LAMP - Original Tri Base - by Where North Meets South
- BASE: Tri Base (pine) - [also available in Oak and Acrylic]
- LAMP: Polypropylene, paper & cord set
- PAPER DESIGN: Adelaide Detail Teal
- DIMENSIONS: (H) 1270 mm X (W) 280 mm (footprint) x (D) 175 mm (shade)
- PACKAGING: Beautifully boxed (H) 720 mm X (W) 150 mm x (D)110 mm
_______________
RRP $389.00

Choose from more than 100+ Designer papers, or display your own artworks, photographs, fabrics, paintings or advertising.

SHIPPING - Please request a quote
Australia Wide - POA
International - POA

ALSO AVAILABLE 

BASES AVAILABLE IN: Pine, Oak, Acrylic
DESCRIPTION

The Phoebe lamp is unique in allowing you to effortlessly change its appearance and tailor the look to suit your style, uses and mood - within minutes you can change the decorative element (typically paper or fabric) and add a whole new look and feel to your room! 

Create talking pieces, display photographs, write love messages or highlight your children's drawings - the possibilities are endless!

When you purchase your Phoebe Lamp, you choose from a wide selection on designer papers, so you take home a beautiful lamp all ready for your home, or the new owner - then, when you feel like it, simply slip the paper out and replace it with a fabric, wall paper, wrapping paper, photos or even original artworks of your choice and making. T

Phoebe are flat pack products - both lamp base arrive disassembled in beautiful  lightweight cardboard packaging, making them ideal to send as gifts!

Phoebe is Australian made and comes with a cord set with a standard bayonet light fitting and is designed to use with compact fluorescent bulbs.

DESIGNERS: Where North Meets South.
---
Share this Product
---
More from this collection