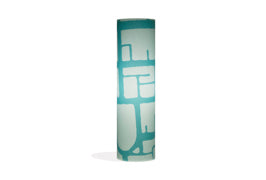 Where North Meets South
THE PHOEBE LAMP - Original $129 - by Where North Meets South
THE PHOEBE LAMP - Original - by Where North Meets South
- BASE: 
- LAMP: Polypropylene, paper & cord set
- PAPER DESIGN: Adelaide Detail Teal
- DIMENSIONS: (H) 660 mm X (W) 17.5 mm (footprint) 
- PACKAGING: Beautifully boxed (H) 720 mm X (W) 150 mm x (D)110 mm
_______________
RRP $129.00

Choose from more than 100+ Designer papers, or display your own artworks, photographs, fabrics, paintings or advertising.

SHIPPING - Please request a quote
Australia Wide - POA
International - POA

ALSO AVAILABLE 

BASES AVAILABLE IN: X- Base ($199) and Tri base ($389.00)
DESCRIPTION

The Phoebe lamp is unique in allowing you to effortlessly change its appearance and tailor the look to suit your style, uses and mood - within minutes you can change the decorative element (typically paper or fabric) and add a whole new look and feel to your room! 

How it works...
Phoebe Lamps are a unique product range designed and made in Australia. The shade design allows you to change its appearance as the lamp shade comprises an interchangeable print. By inserting any paper, photograph, map, artwork or even fabric, you can transform the lamps appearance in minutes. 
The lamps and bases can all be purchased separately or as a combined product allowing even further versatility.
Phoebe is designed to move through life with its owner and easily adapt to each new phase. To ensure this longevity the lamp is made from highly durable plastic. This plastic also holds and protects the decorative insert.
The Phoebe Lamp range is designed for home-assembly and comes flat-packed. The lamps are designed to be assembled without any fixings or adhesives.
The Paper/Insert Size

Phoebe Original 50-54cm wide and 65.5cm high..
Phoebe A3 42cm wide and 29.7cm high.
Trimming Your Insert to Fit
The simple way to trim your insert is to take it to your local printing house and for a small fee they will trim it to your required dimensions. When you buy your Phoebe you will always get a paper included so for the 'Do It Yourself' type you can use this as the template for making new inserts.
Printing Your Own Artwork/Image
It is possible to have any image copied or enlarged so that it fits into the Phoebe Original. Simply take your original artwork/image to a printing house and ask them to copy and print your original to be the above stated dimensions. For best results ask for the image to be printed on approx. 140gsm gloss paper. 
---
Share this Product
---
More from this collection